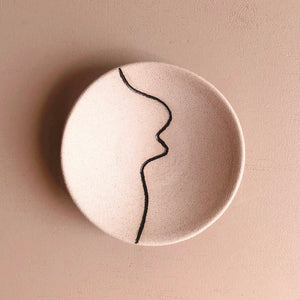 Ceramic dish made from my custom mid-range clay bodies formulated in the studio. These little dishes are handmade using a combination of slab-work and throwing.
Dish Size: 4" x 4" x 1"
Surface: Unglazed, coarse surface in Speckled Sand clay with matte black glaze linework and gold luster linework.
No two dishes will be exactly alike. The linework will vary from piece to piece. I left the surfaces partially unglazed to celebrate the natural beauty of the clay! Not recommended for food. 
Small Batch 
Handmade 

Made in Austin, TX