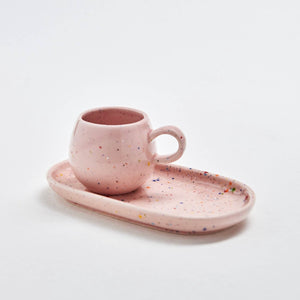 This adorable ceramic mini tray, with happy colors and a
beautiful shiny glaze finish, is a must have!
Pair with our Confetti Mugs for the perfect soup & sandwich or hot cocoa & treats duo! 


-Stoneware handmade ceramic piece.
-Microwave and Dishwasher Safe
-Made in Portugal 
All the glazes are made with pure and local raw materials,
low processing.

Our items have natural and unique imperfections. Any
item you purchase is one of a kind. There are no two items
in our shop that are exactly the same. Even if the fabric is
from the same lot, the unique patterning of colors will
always make each item beautifully different.