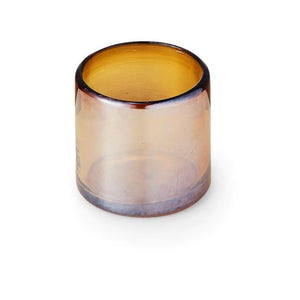 In pre-Hispanic times, Mexican glassware was derived from volcanic, or obsidian, glass. The Spanish introduced clear handblown glass in Mexico during the 16th century. The first handblown glass industry arose in Puebla, before expanding into nearby states. Each piece is created through a collaborative process where it is handed from one maestro to the next until the piece is finished.
Dimensions: 3" D x 2.5" H

This drinking glass is handblown.
Please note that as a unique, handmade piece, no two pieces are ever exactly the same and color varies across monitors. Our website photos are a close representation of this work, but may not be identical to the piece you receive.