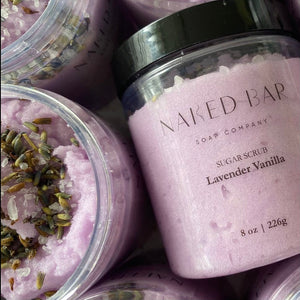 A soothing blend of calm lavender with the warmth spice of vanilla makes for a lingering sensation of peaceful and serene comfort.
Our whipped mango and shea butter emulsified sugar scrubs are made with moisture rich oils, creamy mango and shea butters, and exfoliating sugar. As you scrub with water the oils turn into a rich lathery lotion. Leaves no oily residue, just luxuriously soft and moisturized skin. Read more about the benefits of a sugar scrub.
Ingredients: cane sugar, coconut oil, mango butter, shea butter, emulsifying wax, stearic acid, vitamin E, purple mica, coarse salt, dried lavender, essential/fragrance oil blend
*Our sugar scrubs are made without preservatives. Be careful to not add any water to the container to prolong the life of your scrub and prevent germs from contaminating it. Use a wooden spatula for best application.