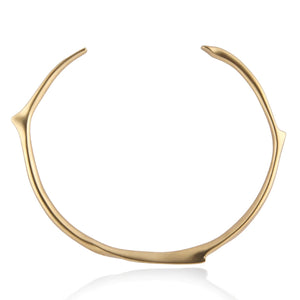 Indian mythology and traditions inspire our powerful Shiv collection. Ancient forms blend with an organic modernist aesthetic to form these talisman like pieces.
Our Shiv necklace is an updated take on the classical haslee collar neck-piece worn all over India by both men and women. This one of a kind piece is first sculpted in clay before being individually sand cast in brass with a vintage brushed finish.

Wear these modern heirlooms individually or layered with pieces from your collection for a strong memorable look.
Size:        6.5"x 6.5"
Material:  Brass with brushed Gold finish