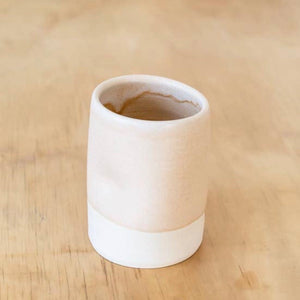 These signature Squeeze Cups are individually pinched As the dry giving each one a completely unique, one-of-a-kind feel. 
Great for just about anything- a big glass of iced tea, a summer-time cocktail, a cozy cup of hot cocoa, even a desktop pencil holder! 


Each cup is dipped in glaze showing off the raw, natural clay on the bottom portion. 


Measures: approximately 4.5" tall
Holds approximately 17fl.oz.